Stay tuned of coming events in the next months here!
---

Next CIRGEN Seminar "Fabricating female intellectual authority: scholars, writers and translators" organized by Laura Guinot. 25 January 2022.
---

Circulating Gender in the Global Enlightenment: Ideas, Networks, Agencies (CIRGEN)
Thank you for visiting the website of the CIRGEN ERC Advanced Grant Project, whose principal investigator is Mónica Bolufer Peruga.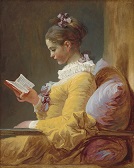 CIRGEN offers for the first time a transnational and transatlantic approach to the circulation of gender models in eighteenth-century Europe and its colonial territories, thus overcoming national or merely comparative approaches and placing the Enlightenment in the Hispanic empire firmly on the map.
CIRGEN's main goal is to examine transfers in the areas of translation, sociability, travel, reading and the culture of sensibility, from an approach that emphasizes the agency of historical actors and the complex legacy of the Enlightenment to modernity.
---
Project period: 1 January 2019 – 31 December 2023
CIRGEN receives funding from the European Research Council (ERC) under the European Union's Horizon 2020 research and innovation programme (Horizon 2020/ERC-2017-Advanced Grant-787015).